Install the Bitpoke App for WordPress
The Bitpoke App for WordPress can be installed with a simple click from Google's Marketplace, after making sure you've followed all the necessary prerequisites.
NOTE

Make sure you've followed all the steps from App Prerequisites .
Go to the Google Cloud Marketplace and search for "Bitpoke App".
To install the Bitpoke App for WordPress, press on CONFIGURE and enter the following:
Cluster: the cluster you've created when going through the App Prerequisites will automatically appear here; you also have the possibility to quickly spin a new cluster directly from here, by presing Create a new cluster.

NOTE

If you've created a cluster and it doesn't appear here, most likely you've created one with lower resources then our recommended ones, see App Prerequisites .

NOTE

Make sure that the cluster you want to install the App on isn't scaled to 0. To check this, go to your cluster on Google Cloud and check the number of nodes.

Namespace: you can leave the default one

App-instance-name: the name of your App install

Bitpoke App Service Account: Create a new service account

Bitpoke App Domain: The domain you chose for the Bitpoke App, e.g. dash.myagency.com

IP Address: Enter your reserved IP address here. If left empty a temporary IP address will be appointed.

NOTE

For a production environment it is recommended to reserve a static IP .
You also have to approve:
I acknowledge that Workload identity must be enabled for the Bitpoke App to function properly
I acknowledge that Application Manager addon must be enabled for the Bitpoke App to function properly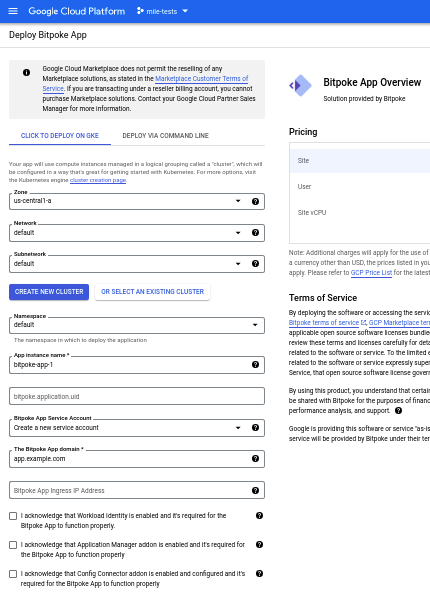 If you've carefully followed all the steps in Bitpoke App Prerequisites just check it and press Deploy.
That's it, you've successfully deployed the Bitpoke App. All that's left to do now is set the DNS records at your DNS provider.
For example, if you've chosen the domain dash.myagency.com for your Bitpoke App domain, you'll need to add an A record for the subdomain dash and the Ingress IP Address you see in your Bitpoke App. Here is an example on Cloudflare:
To connect to the Dashboard for the first time, go back to the Bitpoke App, click on preview secret data and copy the Install link in your browser.
Keep in mind that the installation link regenerates every 2 hours and you'll have to go back to the Bitpoke App on GCP and copy the fresh install link to access the App again.
The install link will get you to the Dashboard configuration wizard, see more on Configure App .